Fresco Adhesive Silicone Sheets are Class I medical devices that help improve skin recovery from all types of scars or burns. They are effective on both new and old scars and burns, this includes the treatment and prevention of keloid and hypertrophic scars.
Resistant to washing. The product maintains its functionality and stability very well, allowing it to be reused and extending the products life.
It does not produce wrinkles on the skin. The adhesiveness and consistency of the product prevents the skin from wrinkling even when applied onto areas of the body where folds occur.
Comfortable and atraumatic adhesiveness. Its adhesive silicone does not cause trauma or injury to the skin when removing the sheet from the skin.
Adapts to any part of the body. Its elasticity facilitates its correct application even on non-smooth surfaces such as joints.
Regular scars
 Burn scars
Hypertrophic scars
Keloids
In combination with compression garments
The sheets are designed to be washable and reusable, lengthening the product's lifespan. 
The sheets are non-sterile Class I medical devices that should NOT be applied to open or suppurating wounds.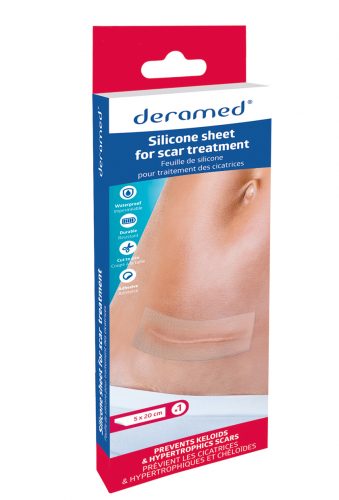 To view the Scar Treatment Sheets, click on the link below: